It's been a long time since I've cooked from only a cookbook. As in zero to few blog/internet recipes or from-scratch creations.
And let me tell you–it's surprisingly tough. I cook almost everyday, but quartering recipes and substituting ingredients out the wazoo makes things a 'leetle bit trick-ay.
By the time I make a dish and photograph it, I'm usually too tired to come blog about it as well. I've considering backing out and postponing the challenge multiple times, but hey, that just seems wimpy. And who really likes wimpy people? Not me.
What I do like are these babies:
Graham Crackers from Veganomicon! But not just any graham crackers…
Modified to be Whole-Wheat Honey Oatmeal Graham Crackers.
One thing you should know about me: I am rather incapable of following most recipes to the T. This recipe was no exception. The original recipe called for agave nectar, which was 1) not in my pantry and 2) too expensive for this chick. I subbed honey, figuring that Honey-maid brand probably knew a thing or two when they did that.
Out of a combination of sheer laziness and creative spontaneity, I also cut back on the sugar and molasses, substituted oat flour (read: oats that took a spin and tango in the 'ole blender) for half of the whole wheat flour, and then used BestLife Buttery Spread rather than oil.
Ohh and uhh yeah. The directions didn't really call for eating a quarter of the graham cracker dough. …But ya know, I did that too.
'Cuz I'm edgy like that. Speaking of edges, I was quite enamored with this:
Alright, now that I've cruelly teased you with this cinnamon studded goodness, let's discuss the verdict on the first recipe of the challenge, shall we?
The Expectations: If you've never tried Trader Joe's cinnamon-sugar graham crackers, please stop whatever you're doing, exit whatever building you're in, and go hunt these down. NOW. They are A.M.A.Z.I.N.G–easily the best graham crackers I've ever had. Made out of whole wheat flour, they manage to taste like an oatmeal raisin cookie, yet they have no oatmeal or raisins. Thus, they are the standard by which all other graham crackers were judged. Anywaaaaaaaaaaays, back to this recipe. I hoped these would be delish, but I didn't expect to be able to recraete TJ's cwack-uhs.
The Verdict: These g-crackers were good, but as expected, they definitely didn't touch TJ graham cracker territory. That said, I didn't miss the cardboard-y aftertaste and hydrogenated oils found in store-bought/name brand graham crackers. The healthier ingredients were a definite plus. I might make these again if I was craving graham crackers or wanted a healthier 'smore, but I wouldn't put them on the "best ever" list. Good and munchable, just not blue-ribbon worthy.
The Rating:   3.5 stars
Though this recipe wasn't jaw-droppingingly amazing, I will probably end up blogging the recipe later on because they were good in a pinch. Because I made a bunch of modifications and the recipe is posted online elsewhere, I feel comfortable posting it (with credit to Isa & Terry for the adaptation guidelines, of course!).
Being that I've eaten about 10 of these graham crackers today though, I'm submitting these for my first every WIAW. Hopefully, next time I will get more eats in!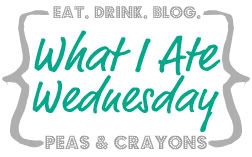 I'm hoping to have Day 2′s recap up later today but no guarantees

Off to make Mac 'n Cheese for Day 3!