^ Random picture of the day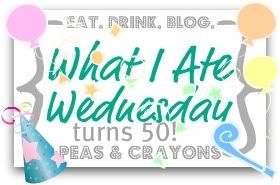 Eek! I almost forgot it was WIAW. I knew I had to throw together something for ya'll because…
a) I haven't done a WIAW since this summer (see here and here)
b) I start school again next Wednesday and probably won't get the chance to do one then.
c) It's about time for some serious hump day food.
d) It's the 50th partay! Oh no, the big five O.
Breakfast:
I fell asleep last night reading "The China Study" around 1 am (from exhaustion not boredom!), so I woke up late this morning.
By the time I made it down to the kitchen, it was 11ish, so I decided to make it a brunch kinda mornin'.
First, I started things off with some liquid get-up-and-go
Iced caw-fee with a  side of sunshine. One thing I've noticed after living on the East Coast for a few months is how the pronunciation of certain words differs.
People from New Jersey and New York tend to call it "CAhWWW-feeee," as compared to someone like myself who pronounce it "cough-y."
And then there's B & E & C, who make me laugh EVERY time they refer to something as"hawr-ibble." (For the record, I say "whore-ibull," which probably sounds equally weird to them…)
Movin' on. Mom left some extra coffee in the pot, so I decided to stick it in the fridge for later. Iced coffee, here I come.
Afternoon-pick-me-up = win.
For the main course, I went with a classic—oatmeal with berries and nut butter. This combo happened to be strawberries, blueberries, and chocolate-pecan butter.
Hijacked my brother's baby bowl (hence the B) for this epic creation.
You better believe it was uh-may-zing.
Lunch:
For a mid-day meal, I headed to a local Indian restaurant called Natraj with two friends from high school, C & M.
I filled up on dal makhani, aloo gobi, saag paneer, basmati rice, samosas, and of course, mounds of garlic naan. There was also kheer, fried dough balls (can't remember the indian name), tandoori chicken, and curry chicken!
Love all those richly-spiced flavors.
S, the last member of our group, is traveling in China right now for the holidays with her family.
We all ate plenty of Indian food in her honor
The service was impeccable, and they even gave us a box for some to-go!
Snack:
During the late afternoon, I got a little hungry (my stomach is a bottomless pit) , so I snacked on one of these glorious little gems: the perfect anytime food, of course.
Have you tried one of these yet? Seriously, go do it. If the world ends in 2012, I will be content knowing that I enjoyed a wonderful last meal. If the world doesn't end, I'll still be happy that I ate this amazing creation.
That's what I like to call a "win-win."
Dinner:
Normally, I'll start prepping dinner and then Mom will come and help finish it off once she gets home from work.
On the menu tonight? Lasagna!
A few months back, I made this version from FFV, and everyone (including myself) thoroughly enjoyed it. It since got tucked in the back of our recipe folder, but I'm glad we decided to make it again tonight. Perfect for a fam-bam weeknight dinner!
Of course, no meal is complete without a little humor, so we keep things festive in the new year spirit.
[ugly night photo…sorry!]
Garnished with a wonderfully fresh sprig of rosemary.
Both Mom, Dad, and brother dearest gave it the thumbs up, so it's a definite keeper
Dessert:
I made oatmeal raisin and banana bread chocolate chip cookies for dessert the other night, (both based off of of blog recipes) so I snacked on a few of those after dinner, in addition to a juicy bowl of blueberries.
I heart California fruit.
Earlier in the day, I also made chocolate-chip cookie dough brownies to take for a visit to my old high school. I wish I had a chance to take a few good pictures, but unfortunately there were no a serious scarcity of leftovers. The pan came back LICKED CLEAN. Never underestimate the appetites of hungry teenagers.
Also disappointed was Blake…though he was really more upset that I baked brownies, teased him with the smell of chocolatey goodness all day, and then didn't bring any goodies back for him. What can I say, that's his punishment for shooting me with countless Nerf foam darts. (Mwhahah payback! Just kidding.)
See that cookie dough peeking out of the brownies?
Little pockets of paradise, I tell ya.
That wraps up my first WIAW of 2012. Hopefully, there will be more before 2013.
Speaking of things to come…I have a whole ton of recipes to post before I go back (lasagna, cookie dough brownies, best salmon ever, perfect oatmeal, etc). Totally in need of advice on what to post first, if anyone is interested.
P.S. I'm seriously contemplating a blog name change. More info coming soon!